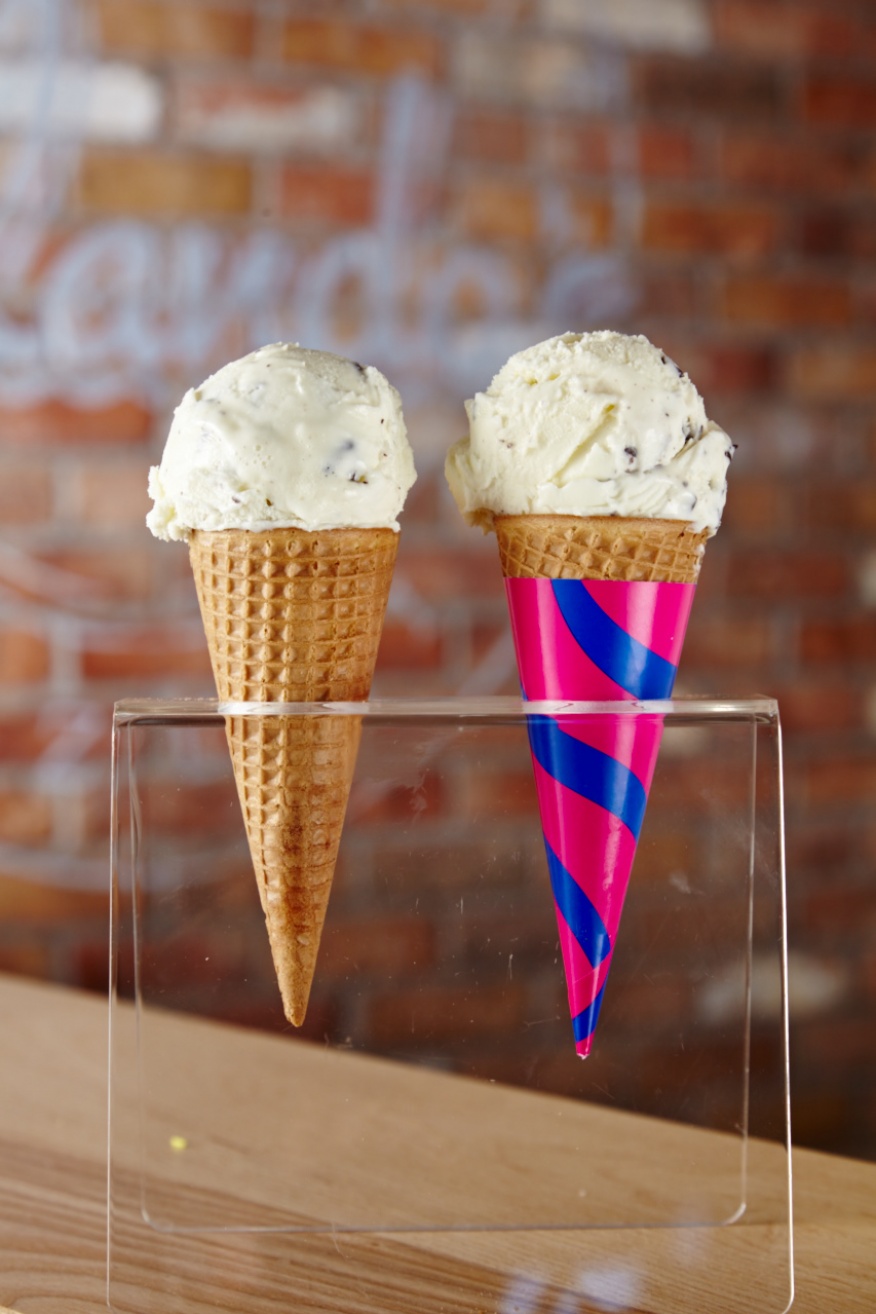 Will our reviewed perception of hygiene requirements impact on the ice cream market?
Will Italians kiss less, will the British shake hands less? Time will tell. For sure personal hygiene precautions have been increasing year on year for decades. Floor distance markers may go but will the new retail point screens be taken away?
For sure people's perspectives of hygiene will have moved to a position of greater knowledge and sensitivity. We think the same will apply to sustainability but where will the balance be. Edible packaging is better for the planet but can we make it less of a contamination risk.
Let's be clear, this is about perception not just science, because what people think affects more what they do.
Paper sleeves on cones
Antonelli have been producing sleeves for the past fifty years. With automatic sleeving in our SALSA certified UK bakery, we apply the sleeves directly onto the cones so they are pre-stacked when you pick the stick of cones out of the box. For retailers this is by far the lowest cost and safest way to buy them, especially if the alternative is paying somebody to do it by hand. We have sleeves to fit most of our cones, even the dipped and decorated ones!
Before and since lockdown, we have had many enquiries to buy sleeves separately in order to sleeve cones customers have already in stock. This is something we can do very simply. Let us know which cone names you have and how many 1,000's sleeves you want for each one. For current customers we are doing a special onetime only delivery price of £10 if you wish to order "sleeves only" for the Antonelli cones you already have in stock. The wall/counter dispensers will make this easier but it may be preferable to do sleeving out of serving hours. This will enable you to get started quickly at lowest cost. At the very least you will be able to get early feedback to make good choices for your business going forward. Whether you choose the no waste, just cone option, or pre-sleeved cones or to buy sleeves separately and dress the cones yourselves. Where there are design options for certain cones sizes, we will let you know when you order.
If you would like personalised sleeves, bear in mind there is a minimum eight week delivery time from artwork approval. However you can always get a few stock sleeves to last you until they arrive.
The picture below is page 13 of the Antonelli "Serving Ice Cream" brochure. If you have not had one yet and would like a copy of this or any of the other brochures, let us know. We can send a PDF by email or a hard copy in the post, just drop us an email with your request order@antonelli.co.uk.
NB: Having the correct sleeve to fit each cone size is very important so if the sleeves we supply are not for Antonelli cones do make sure they will fit well. If the angle is too wide, the cone is loose it could fall out on the floor, too narrow and the cone doesn't go to the bottom of the sleeve, ending up with a part empty sleeve at the tip which is awkward to handle.
NEW - Sleeves now available to purchase separately contact us.

If there is something else you want more information on drop us a line.
All of us at Antonelli wish you good health and fortune as we all head back to see just "how Covid-19 changed the World of Ice Cream."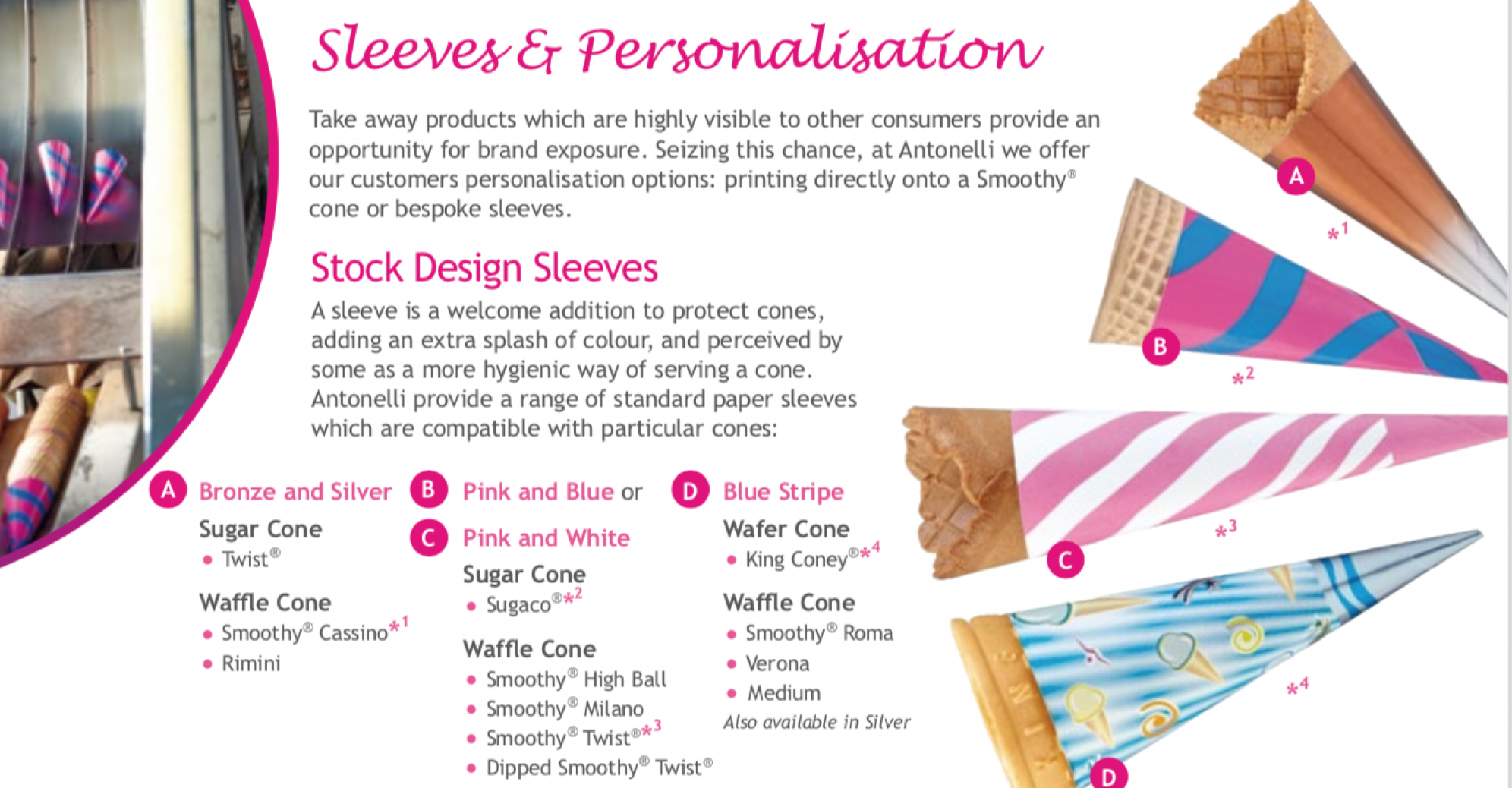 Sleeves options available