As we enter August, many ice cream businesses will be enjoying their peak time, with hoards of customers flocking to cabinets to get their hands on a cooling, tasty treat. Nevertheless, September will soon be upon us, and bring with it a slight lull.
Whilst the Autum and certainly the Winter months are not synonymous with ice cream, we can all agree that it should be enjoyed year-round; as a result, we must plan ahead for colder months to ensure that we maintain high levels of custom throughout the year, and there are so many ways to do it!
Be adventurous with your flavours
Flavour is everything, and more often than not we will associate certain flavours with various seasons. In the Summer your cabinet may have been brim full of sorbets and tropical flavours; but as we move into the colder months we want to capture those different tastes that we would typically associate with the time of year.
Warming ingredients such as cinnamon, berry fruits, and, of course, those sweet treats that we enjoy around Halloween time will be the ideal offering. Furthermore, we would recommend that you
offer these flavours as 'limited editions' to create urgency with your customers.
Decorate to impress
Looks can be everything when it comes to choosing an ice cream flavour or gelato, and therefore don't miss this crucial aspect to your cabinet display. This doesn't necessarily need to be all singing all, all dancing decoration, sometimes simple is best; choose your decoration on a flavour by flavour basis, you can have some real fun at this stage.
Just look at some of the delicious autumnal-inspired flavours (and of course their decoration) we have created over the years and tell us that it doesn't tempt you to try –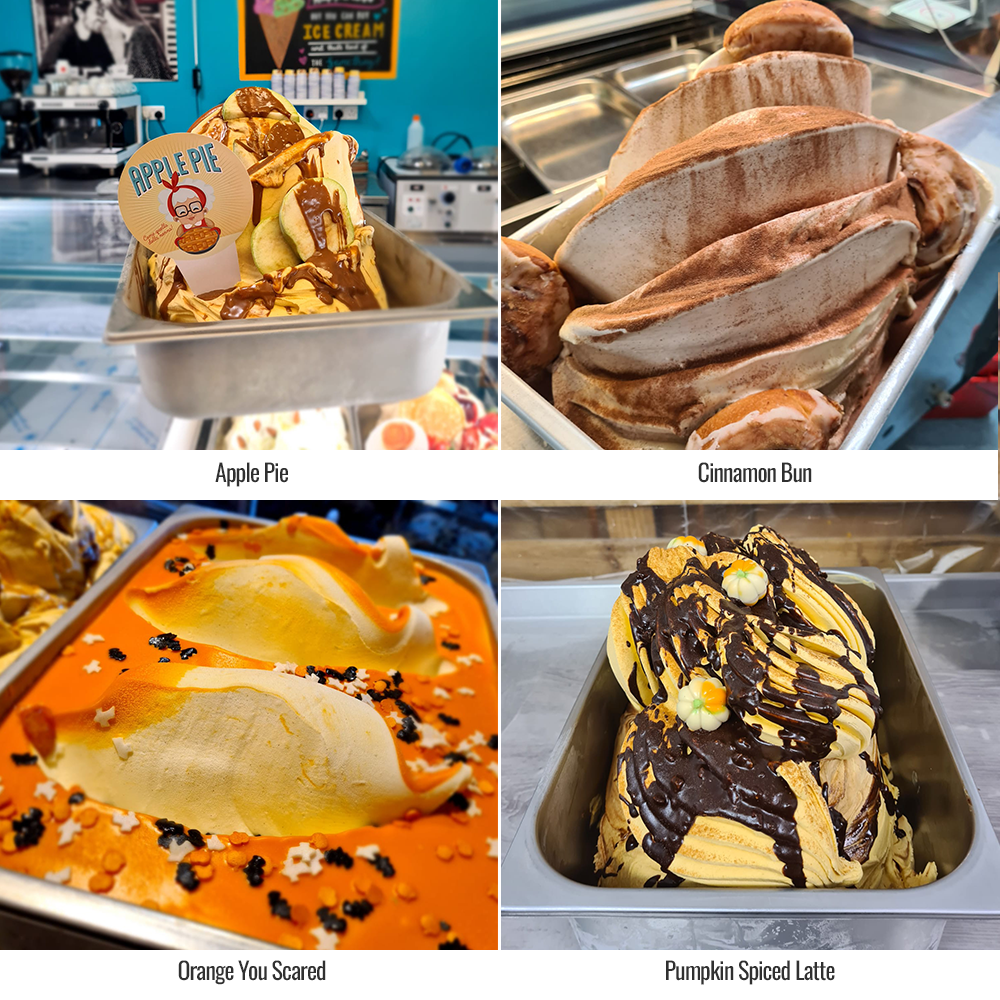 Get your customers involved
Engaging with your prospective customers is a great way to bring in business, and therefore you may want to consider getting them involved in some unique flavour creation this Autumn. Present options to your social following and ask them to vote for their favourite, before announcing the winner. As they have been involved in the flavour creation they will be significantly more likely to pay a visit to your parlour for a taste.
What are your top tips for bringing in customers during the colder months? We'd love to hear on our Instagram page, click here to let us know.
If you're looking for guidance on running your parlour this Autumn or simply want to flavour inspiration from our team of taste experts, get in touch today!