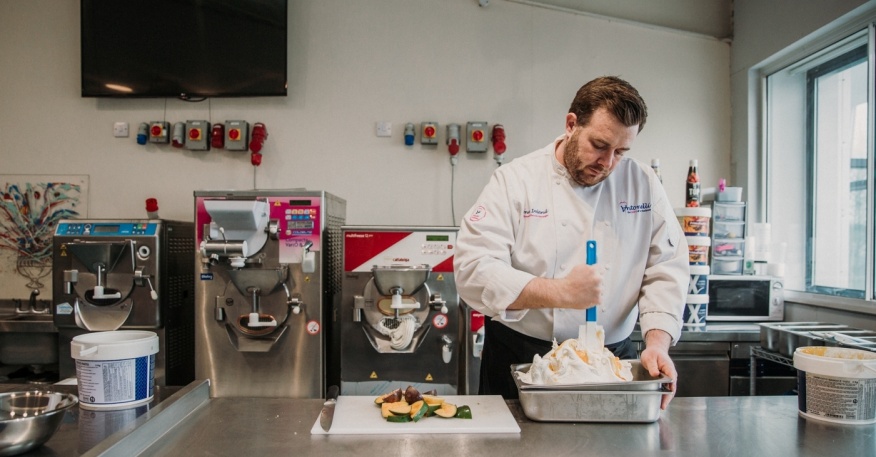 The Antonelli training sessions in our specialist Gelato Academy are now infamous in the industry. Ran by our very own Technical Manager, Jonnathan Ireland, or 'Gelato Jonny' to his friends, they can offer a unique and experienced insight into the industry along with plenty of ideas for methods and flavour combinations. And thanks to the variety of courses that we are able to offer, we can host anyone from the brand new to the seasoned gelato maker.
So, what can you expect when you come to us for training? Well that all depends on what course you are booked onto. We offer a variety of courses from our Gelato Academy, including:
So You Want to Make Gelato
A 1 day training session for those considering joining the ice cream industry, covering everything you need to get started
One 2 One
A 1 day training session offering information and guidance to businesses in the ice cream industry, covered topics are bespoke to the booker
Specialist courses
> Cocktails and sorbet
> Build a base – writing a recipe from scratch
> Vegan – Going plant based
But whatever course you choose, when you come to train with Antonelli there are a few things you can be sure of:
Expertise
Antonelli have been in the industry for over 110 years. In that time, we have learnt a lot about making ice cream and gelato and are happy to pass that knowledge and expertise on to our trainees! So, whether you are attending a session with Gelato Jonny or one of our specialist guest hosts, you can be sure you are hearing from the best in the industry.
High quality machinery
We have a large range of gelato and ice cream making machines in our academy from, in our opinion, the best in the industry. Featuring machines from the likes of Carpigiani, Machinery World, Dan O'Neill's and HTG (formerly known as Taylor's), our trainees have the option to try out a variety, discover the benefits and receive bespoke advice about which machine will work best for them.
Inspiration
Want to venture outside of the usual favourites of vanilla, chocolate, and strawberry but not sure where to start? Then let us help! Not only will Gelato Jonny help you to create some truly fantastic flavour combinations and update you on the latest trends, but he will show you the most effective way of making your favourites too.
What do our trainees think?
Of course, we ourselves are very proud of the quality of training we are able to offer at the Gelato Academy, but don't just take our word for it! Here's what some of our recent trainees had to say:
"Jonny Ireland was informative, extremely knowledgeable and helped us to gain great insight into the ice cream industry… We would undoubtedly recommend Antonelli to anyone wanting to delve into the world of ice cream." – Adnan Khalid
"The course structure was spot on, the content was very interesting and above all, Jonny Ireland was a brilliant host. His humour and knowledge made it easy to understand, enjoyable and a memorable experience." – Alexa Chilton
We very recently attended a 'One 2 One' course at Antonelli's Gelato Academy in Manchester and WOW, what a day we had. We thoroughly enjoyed the whole day and cannot wait to get started. We also cannot wait to head back to the Academy for further training." – Danielle Stoakes
What's coming up in the academy?
Gelato University Carpigiani – Tuesday 31st October
Semifreddo – Milan –28th & 29th November (course fully booked)
Antonelli Two-Day Experience Days 7-10th November
So You Want to Make Gelato – Monday 4th December
Want more information?
Visit our dedicated training site here for more details or to book any of our available courses!