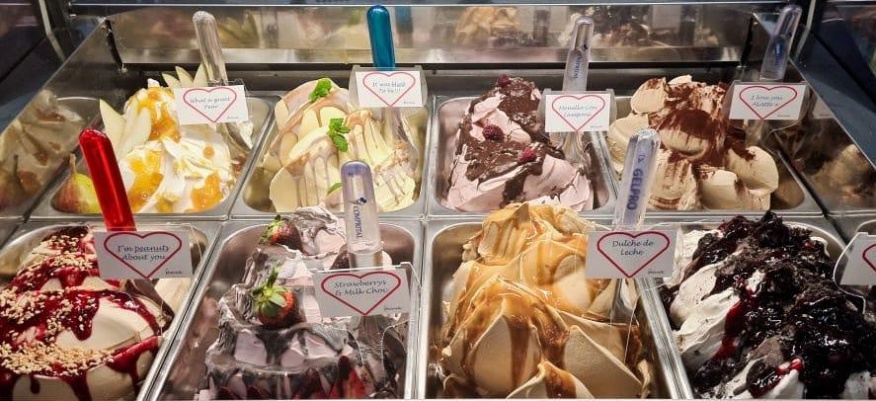 In the current climate we are all looking for some good news and positive stories. Gelato Jonny has been busy making ice cream and creating a Valentine's cabinet. As we are sure you will agree we all could do with a bit of love and pampering at the moment. Spread the love this February with some of these fabulous flavours using our new Comprital and Martini brands alongside our own GELPRO range. You are probably itching to know what all these flavours are…

What flavours are in our Valentine's Cabinet?
Even if you don't make these gelato recipes you might find some of our 'cheesy' names cheer you up and put a smile on your face!?
Working from the back left of the cabinet we have …. wait for it…
What a great pear
A smooth white chocolate base rippled and decorated with a pear variegati, resulting in a fresh creamy gelato with a delicious sweetness
It was mint to be
This is a bit like a mint Baileys using a white mint and whiskey base with a caramel ripple to decorate.
Monella con lampone
Monella is a smooth nutella flavoured cream style with the intense sweetness and texture of freeze dried raspberries, rippled through a raspberry base.
I love you a latte
A popular favourite - the caramel latte. Caramel of one kind of another has found its way into the list of must have classic cabinet flavours, whether you choose to make it salted or add chocolate is your decision
I'm peanuts about you
A smooth peanut paste rippled with a fabulous raspberry ripple creating the classic PB&J.
Strawberry & milk chocolate
No valentine or for that matter any cabinet would be complete without a strawberry flavour of some kind. This combination is based on a sharing dessert of chocolate dipped strawberries
Dulche de leche
An indulgent classic and popular creamy gelato made with love
Cookies & cream strawberry truffle
Just as the name suggests this combines two favourites - cookies and strawberry with soft brownie pieces - a match made in heaven
If you would like to know more about these recipes, such as the specific products used, dosages etc then speak to your Business Relationship Manager, call Customer Service on 0161 789 4485 or contact us. Jonny is also running some online training sessions and offering remote gelato making consultancy to Antonelli customers. If you are interested email us training@antonelli.co.uk with your specific questions or subjects you would like to discuss. We hope to be able to invite you to the Antonelli Gelato Academy for face to face training again soon.