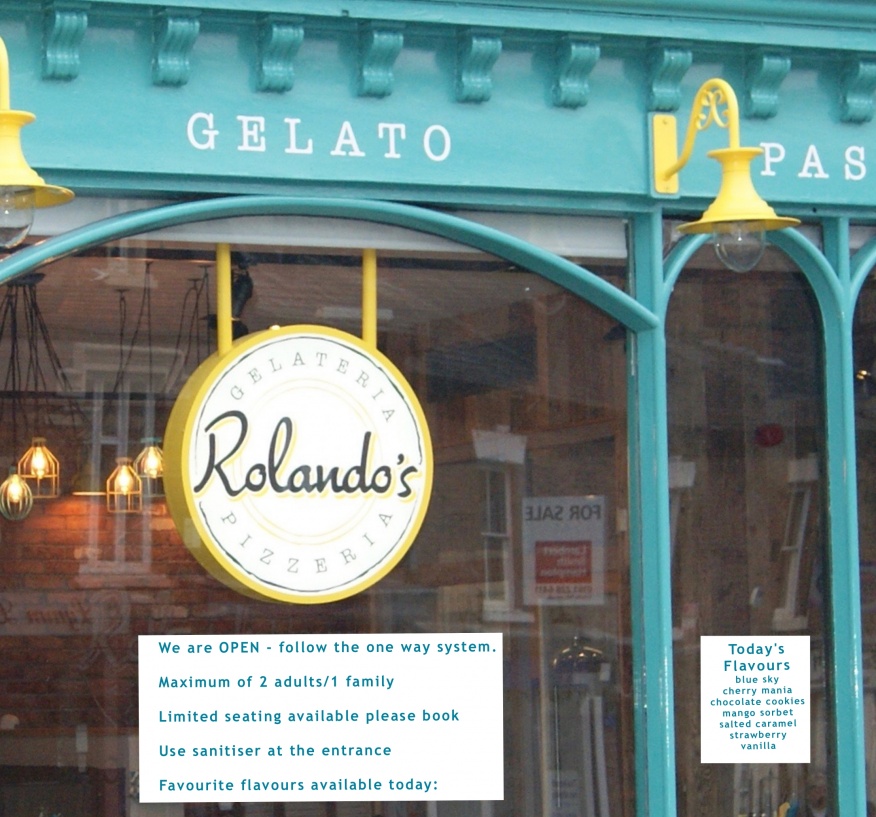 We are approaching the end of the month and the start of August which historically is the height of our summer ice cream season as schools close their doors for the holidays. Some will hardly notice the difference as many children have not walked through their school gates since before Easter. It is nearly a month since the relaxation of some of the rules which enabled more of our customers - parlours, gelaterias, cafés and restaurants to once again open their doors to the great British public. From our own experiences we have collected together some tips to help encourage your customers back through your doors safely.
Clear Communication
Clear and consistent communication is key at this time - the last thing you want is for potential customers to be confused and in that confusion just decide not to make that trip. Here are a few pointers which may seem obvious and maybe you are already doing, but just double check all your platforms to ensure there is not ambiguity or confusion. The initial message for lockdown was very clear - 'stay at home, stay safe', with relaxation at various rates across the UK (Scotland, Wales, England & N Ireland) and with variation across different regions, messages have become clouded, so be clear with:
> signage on windows
> outside parlours
> social media
> websites
> local press
Use the same wording and same message to avoid ambiguity such as:
> we are open again or now open
> please wear a mask
> card payments only
> only 2 customers in the shop at one time
(NB not 2 people as customers will wonder if that means 1 customer and 1 server. Also consider single parents with multiple children so maybe your sign should read 2 customers or 1 family, or maximum of 2 adult customers at one time depending of course on your shop layout and space available)
> everyone welcome - disabled access - seats available in the queue or waiting area for those unable to stand and wait
> one way system in place follow the arrows/foot prints etc
> process for ordering and queueing
> suggest customers select flavours in the queue to save time at the counter
> have a photo of your latest ice cream cabinet on social media/website/poster or screen so you can see all the ice cream flavours before reaching the counter


Websites
Looking at various websites for our own trips out with families we have found that those with obvious Covid 19 or Coronavirus blogs or statements referencing lockdown are the most reassuring. This way you know immediately you are looking at the latest information, not a website from last year. Other information that your customers may find useful is what is open nearby, where can they eat their ice cream and which attractions, sites and facilities are now available. Some people are nervous about leaving the house if there is not a toilet within 10 minutes for example.
Hygiene
Vulnerable customers who are beginning to venture out will be particularly keen to understand what you are doing differently to improve hygiene and/or the customer experience, so state the obvious, for example:
> our staff will be wearing masks/visors/gloves
> sanitiser is available at the door
> ice cream cones are served in paper sleeves
> we have a new cleaning regime


No change to the products or service
At the same time we believe that customers are looking for reassurance that it is still the same friendly staff, you have their favourite flavours and it will all taste just as good as before. With all the changes people may need something familiar to make them feel safe or calm and happy. Be patient with customers as they adapt to new ways particularly older clientele who may find change more difficult. Take time to talk to customers when possible and make them feel valued. Everyone has felt vulnerable at some point over the last few months even the most resilient amongst us - remember a smile and a quick chat goes a long way.
If you are looking for some traditional flavours or inspiration for recipes or advice on which waffle cones or decorated cones to stock please speak to your Business Relationship Manager or contact us.