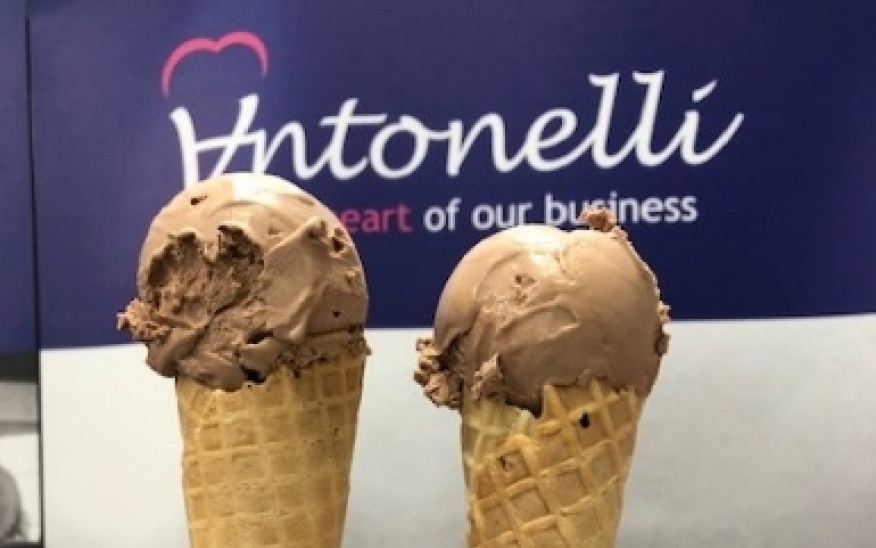 New Antonelli Atina Waffle Cone
You may have read about the new Antonelli Atina Waffle Cone in our recent customer newsletters if you are signed up for receiving these monthly by email*. If not you will be keen to know how this new UK made waffle cone could benefit your business and why you might like to add it to your cone selection. In fact you might want to call it the 'AA' (Antonelli Atina) waffle cone as it might just come to your rescue helping your business reduce some costs. Interested? Read on to find out more about how the latest addition to the Manchester made Antonelli ice cream cone range can help you and your business.
Antonelli Atina (AA) to the rescue
If you are a regular customer of Antonelli you will no doubt be aware of our most popular UK made waffle cone - the Torino. This is pictured on the left of this picture with the new Atina waffle cone on the right, which gives you a feel for the difference in size of the two cones. The Atina waffle cone is just a little bit smaller but barely noticeable to your customer from their last visit, last season. However the difference in cost to you is in the portion size which will definitely be noticeable in your accounts. Although the scoop sizes may look quite similar to the naked eye, by serving your ice cream or gelato on our new Atina waffle cone you could be saving yourself up to 12% per scoop on every serving. Reducing portion sizes is not a new idea - it is a strategy used by many well known confectionary brands in recent decades. This way you will be able to maintain your quality but help cover your overheads and variable costs.
If you need to order a smaller 24 size scoop instead of using the size 20 we have these in stock so do add one to your next order.
The table below compares the Torino and the Atina waffle cones
| | | | | | |
| --- | --- | --- | --- | --- | --- |
| UK Made Waffle Cone | Top width (mm) | Height (mm) | Number of Scoops | Portioner Scoop Size | Cones/case |
| Atina | 44 | 145 | 1 | 24 | 200 |
| Torino | 48 | 162 | 1 | 20 | 216 |
If you would like more information about the new Antonelli Atina waffle cone and how it might help your business costs, contact your Antonelli Business Relationship Manager. Alternatively call the office and speak to one of our Customer Services team on 0161 789 4485.
*If you would like to receive our monthly newsletter by email please send your contact details along with your business interests to info@antonelli.co.uk.