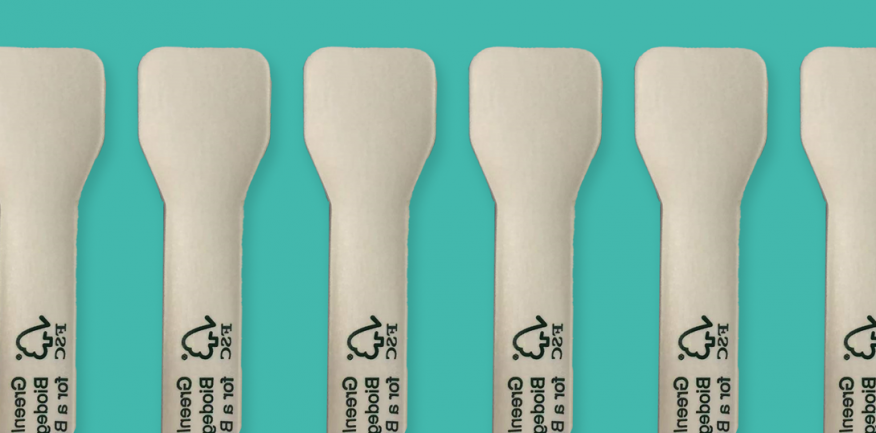 For many years now, the Antonelli team has worked tirelessly to find innovation solutions that will reduce impact that our products have on the environment.
From ensuring our packaging is recyclable or reusable, to sourcing from local trade suppliers rather than emissions heavy importing, and not to forget the fact that much of our product range is edible, dedicating our time to a greener future is a fundamental aspect of our business.
With multiple product launches over the past few years of environmentally friendly packaging, we are very excited to introduce you to our latest; the Greenline Biodegradable Spoon.
An estimated 100 million plastic ice cream spoons thrown away in the UK on an annual basis, with only 0.01% on average recycled. This means that 100 tonnes will end up in landfill or in our oceans, a frightening figure, and one that we actively want to reduce.
And with more awareness of the devastating impact on plastic waste on the environment that ever before, ensuring your business is offering customers an eco-friendly alternative when serving your ice cream is crucial.
As the UK's first widely available biodegradable single use spoon, our Greenline spoon, measuring at 95mm in size, makes it the perfect pairing with ice cream and can therefore replace the plastic spoons currently used at ice cream outlets throughout the UK.
The spoons are made with FSC (Forest Stewardship Council) paper; not only will this ensure that our ice cream spoons are not adding to the millions of tonnes of plastic waste entering oceans each year, but it also supports the FSC in conserving forests, yet another crucial component to reducing carbon emissions.
Ordering our Biodegradable Spoons
Greenline Spoons are available in cases of 20x100 (2000). With a trade price of just £48, we have guaranteed that they are an affordable option for our clients, at just 2.4p each.
To place your order please call the Antonelli team on 0161 789 4485.