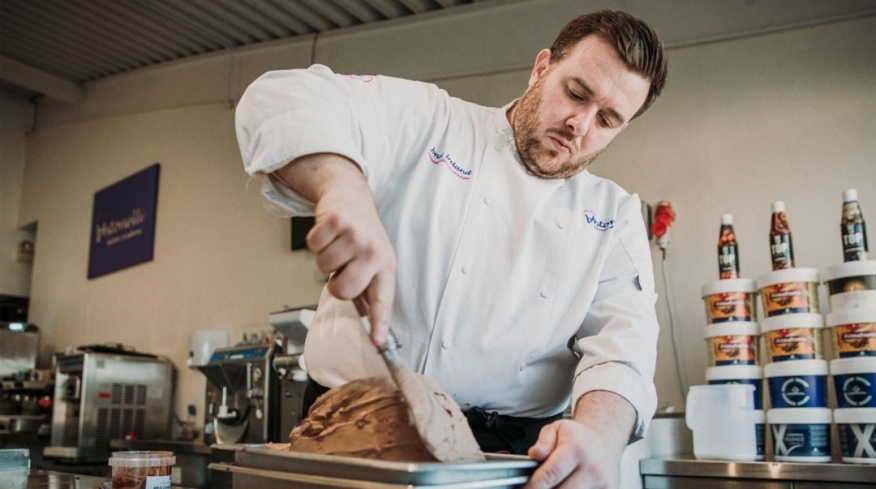 As the Antonelli team, and indeed the ice cream industry as a whole, prepares to attend the first in-person event in over two years at the Ice Cream and Artisan Food Show in Harrogate, anticipation is building to discover the latest and greatest trends that the show will have to offer.
For our clients, planning for 2022 has been underway for many months now. With demand expected to skyrocket, the coming season is set to be a huge opportunity for ice cream artisans and preparation has never been more important as we slowly ease our way through to the other side of the pandemic.
Are you fully stocked ready for the season ahead? Below we will take you through some of the key ingredients you may need to make those all-important new flavours your customers are looking for…
Making your ice cream
Simply Add
An easy yet highly effective way to make delicious gelato. Our full range of 'Simply Add' ingredients, just require milk or water to make an extensive range of delicious flavours.
Soft Serve Mixes
Available in both powder and liquid mixes, our Soft Serve range can be combined with milk, water and/or fresh yoghurt, allowing for total flexibility for your ice cream recipes.
Emulsifiers & Stabilisers
With so much price pressure some products have been hit hard by hikes in prices, there is still time to review alternatives should you wish.
Improvers
Used to modify your gelato recipes to suit changes in storage, serving or many other variables, often for specific flavours. Improvers can be used for any number of reasons, including increasing thickness, improving the structure of your gelato or minimising ice crystals.
Raw Ingredients
Of course, any recipe will require raw ingredients be they for standard or the most specialist niche market recipes such a no/low sugar and Hi Protein. Whether it's egg white powder, sugar, Dextrose, Fructose, Erythritol and many more, we have it all !
Dietary Lines
Catering for specific dietary requirements has become a crucial component for any food business in recent years. When it comes to ice cream, ensuring you can offer sugar free, vegan or even dog-friendly ice cream is where you can capture that lucrative market.
Flavour Concentrates
When you have your perfect base recipe, now is the time to add that all important flavouring, and that's where our Flavour Concentrates come into play. From classics such as toffee or vanilla, through to fruits and nuts, the options are endless.
Combos
We introduced "Combos" to ensure that our clients were able to easily combine ripples and pastes under one code. These can be added to a base to create your newest best-selling ice cream (Creme Egg combo will be a particular favourite come Easter!).
The above account for just a small proportion of our full product ranges. Of course, many know us well for our long and historic expertise in ice cream cones to accompany your tasty ice cream innovations.
As specialists in key ingredients and cones for over 100 years, we have become one of the leading suppliers of any and all ingredients you may need to produce, display and serve ice cream, from cones to packaging, inclusions to displays .
Visit us in Harrogate
Are you attending the Ice Cream and Artisan Food Show in February? Come and say "hi" to our team on Stand 17 you can't miss us as you walk in!
Here you will be able to take a comprehensive look at our product ranges and flavours. We have a show offer that you will not want to miss.
Want to learn more about making your ice cream once you have the vital ingredients necessary? Here at Antonelli we provide both new and experienced ice cream makers with expert training from our very own gelato connoisseur, Gelato Jonny. Find out more about our training courses here.