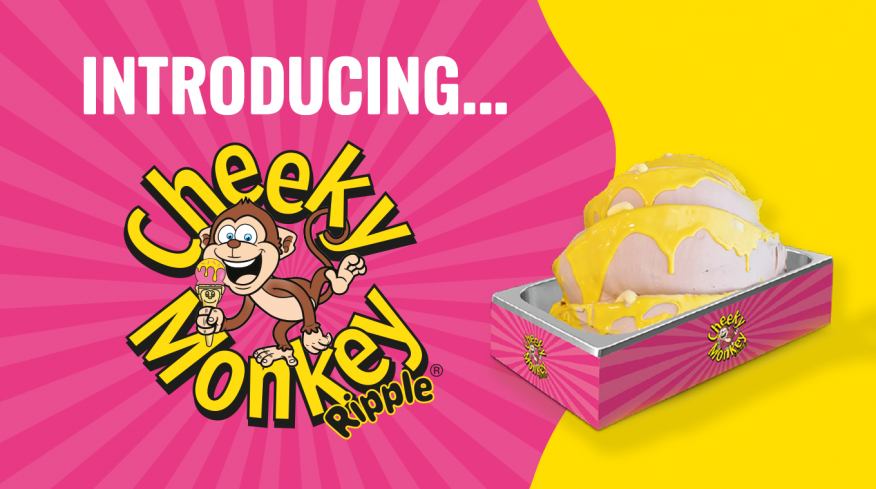 The expert team here at Antonelli have been busily working away over the past few months on something very special that we will be unveiling today (7th Feb) on the opening day of the Ice Cream and Artisan Food Show in Harrogate.
We are very excited to introduce you to the latest delicious product to enter our range…Cheeky Monkey®!
What is Cheeky Monkey®?
Cheeky Monkey® is the newest ripple to enter the market, with a target audience of 2 to 10 year olds. With a sweet banana flavour and yellow in colour, it will make the ideal accompaniment to a number of tasty ice cream or gelato flavours.
Even better, we even have the cones to match, check them out here. By offering the choice of a Cheeky Monkey® cone you can show your consideration for supporting your customers when spending is tight without reducing your margin. Parents purchasing their Cheeky Monkey® treat may also appreciate a portion that young children can finish before it melts over their clothes!
And it's not just our flavour experts that have been hard at work, we have also been working on a distinctive and engaging brand to really catch the eye of your customers.
Cheeky Monkey® inspiration
What would a new ripple be without a delicious recipe to complement it? Cheeky Monkey® has been formulated to ensure that it's versatile across a wide range of recipes.
Whether you want to combine it with a salted caramel ice cream to make that iconic banoffee flavour, mix it with Mr Pancake for Shrove Tuesday, go simple by adding to a vanilla base to create banana split or, of course, ripple it through the ever popular chocolate, the opportunities are endless.
Attending Harrogate this week? Come and say hi on Stand 11 and get a taste of Cheeky Monkey®!
To pre-order your very own Cheeky Monkey® or to get some recipe inspiration from our team of flavour geniuses please get in touch today! Fill out our contact form here.