We are delighted to announce that Antonelli is now introducing more choice for our customers, with the same quality and service that you have always expected with our reputation in the industry.

Behind the scenes we have been very busy during 2020, as well as managing all the challenges the year brought us, our customers and their families across the UK. We have been researching the market and building new relationships.
Based on the results of our studies, we have now moved on from MEC3 in order to bring to you increased quality, range and innovation at lower prices. Existing MEC3 products are available to order until the 20th January. We are pleased to tell you more about our new exclusive partners of the Antonelli family, Comprital and Martini.
Comprital
Innovation is the founding spirit of Comprital, a high quality gelato creator based in the heart of northern Italy. With over 30 years in the industry Comprital is considered as the 'chefs choice', known for using innovative processes and natural ingredients to create products for the artisan gelato maker. If you are keen on eliminating artificial ingredients then ask us about the Giubileo range of products from Comprital which is the most natural product range available on the market. Giubileo products have no artificial flavours, no emulsifiers and use grape sugar, which is the only sugar to naturally occur in a liquid form. These factors make a very smooth, high quality gelato, but don't assume that it must therefore be expensive - we think you will be pleasantly surprised. Comprital's strong focus on research and development means they have a dedicated department with qualified food technologists working full time on new products for the gelato maker. They are at the leading edge of the industry and are known for their quality worldwide.
Martini
Well established in the food sector since its foundation by Luciano Martini, the business has invested in top Italian gelato chefs to develop an exciting new range of intense and indulgent gelato making ingredients. With its 50th anniversary on the horizon, the business is looking to make a big impact in the UK gelato market. Previously known for vegetable fats and chocolate, Martini is building on this expertise to increase their range of gelato ingredients. As part of the Unigrà organisation, Martini can respond to market demands from all sectors of the market from artisan to retail, retail to industrial. To see some of the Martini ingredients in use watch the Martini Video.
The important message to stress is that this is not a decision we have taken lightly. Our National Technical Manager - Jonnathan Ireland (you may recognise him as Gelato Jonny) has been very busy in the Antonelli Gelato Academy testing these new products and working alongside our new exclusive partners to ensure that the range we offer you, our customers, suits your needs and expectations.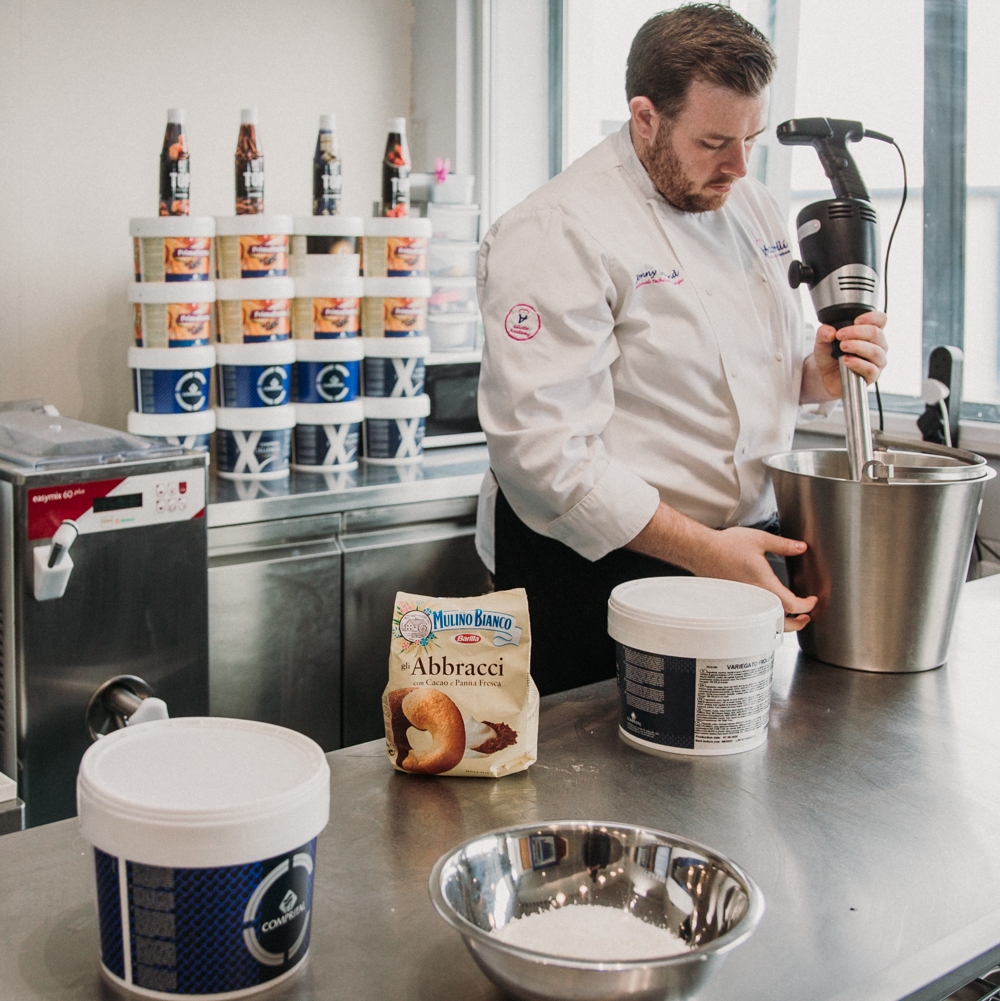 It has always been our philosophy to maintain high levels of quality in all our customer interactions. Our desire to create 'Cones for the Connoisseur' continues into our service levels, our customer relationship building and our choice of business partners.
We are very excited about these new partnerships, not least because we believe we will have gelato solutions to suit all the various requirements of the UK market whatever your brand or market position. Our Business Relationship Managers (BRM) are itching to tell you all about the possibilities for your business. Although they are not out on the road currently you can still speak to them so do get in touch if you have any questions. If you are unsure who your local BRM is then call Customer Service on 0161 789 4485.
GELPRO
We should also stress that we will still have our own GELPRO brand too and have added to this range as well. For those of you who are not familiar with the GELPRO range, it was launched at Harrogate last year. It is our own range of paste, ripple and base products that are designed especially for the UK ice cream market. The flavour profiles, balance of intensity and cost is matched more specifically to the requirements of businesses making for the UK market. The GELPRO range is produced by specialist manufacturers from around the world to the exacting specifications of Antonelli.
The GELPRO range works alongside our new exclusive Italian brands, giving all customers, from continuous and batch to artisan and wholesale, a single supplier option.
Many of the GELPRO products are already listed on our product pages but please bear with us whilst we update the new ranges. We are also working on a new 'Making Ice Cream' brochure which we will circulate to customers via our BRMs as soon as it is printed. If you do have any questions in the meantime please do contact us.